Primary school pupils from across the UK and Ireland submitted posters to a competition run by the Transport Planning Society and Living Streets for Transport Planning Day 2020 to promote environmentally friendly ways to travel to school.
Transport Planning Day is an annual celebration and this year focused on the role of transport planners in tackling climate change and creating a sustainable, healthy future.
The transport sector is now the UK's leading source of greenhouse gas emissions and the school run is just one of many opportunities for greener everyday travel.
Winners of the competition were announced on Monday 16 November by the Mayor of London's Walking and Cycling Commissioner, Will Norman at the virtual Transport Planning Day conference, which also featured a speech from Transport Minister, Rachel Maclean.
First place went to nine-year-old Phoebe from St Luke's Primary in Brighton, who emerged from a shortlist of ten entries to be crowned the winner. The prize includes arts and crafts vouchers as well as a gift from the society to the school of the winner.
The Winning Poster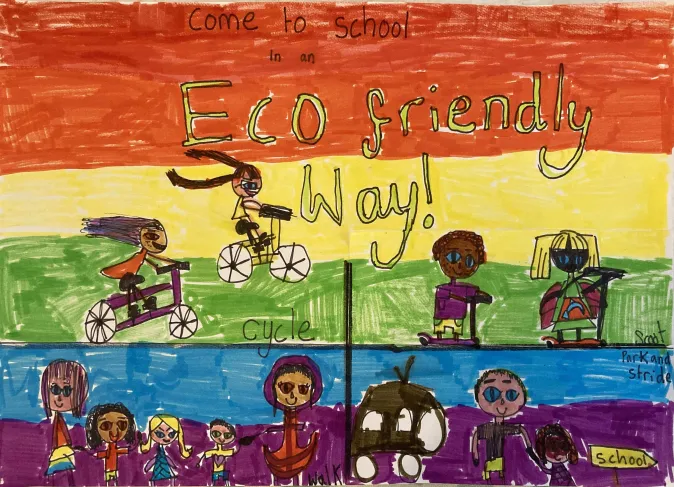 Second place went to four-year-old Hattie from Hurst Green, Kent, while ten-year-old Madison from Swindon won third place.
The entries can be viewed in an e-book available and can also be viewed on the TPS website: tps.org.uk/poster-competition
Jo Ward, Chair of the Judging Panel and TPS Board Member, said:
"In the midst of such challenging times, it was wonderful to receive so many positive images from children across the UK and Ireland.
"We were really impressed with the standard of the entries across all ages – from those aged four right up to the 11-year-olds.
"They clearly know about the issues and solutions for greener, healthier, more sustainable travel, not just to school. They even impressed us with some new ideas, which made picking a winner hard. But we are delighted to be able to reward the winners with a small prize, thanks to our sponsors.
"On behalf of my fellow judges I can't thank those who entered enough for sharing their creativity. Transport Planning has a positive future."
Tanya Braun, Head of Policy and Communications for Living Streets, said:
"We work with pupils in over 2,000 schools across the UK and know many of them are incredibly passionate about protecting our planet. We also know children understand that how we choose to get around plays a key part in tackling the climate emergency.
"We were really impressed by the knowledge and creativity on display in the posters we received, which made choosing a winner from such a strong selection of entries all that much harder.
"We are delighted this poster competition harnessed children's passion for our planet and their ideas for a greener future. Transport planning built around green and sustainable forms of travel, like walking and cycling, will be vital for their and ours."