Communities show transport planners what works
The People's Award 2019
Our People's Award aimed to highlight good practice in putting people at the heart of transport plans.
We invited communities to nominate an initiative that has made a difference to their lives – an opportunity for communities to tell professionals what good looks like.
In 2019 nominations were open to individuals, community groups, local politicians, charities, campaigners, Parish Councils and Town Councils who can nominate a transport planning initiative.
The judges looked for projects that involved people in the planning and demonstrably improved access to services, quality of life and well-being.
We announced our shortlist on 23rd October 2019 at a parliamentary reception hosted by Chair of the Transport Select Committee, Lilian Greenwood MP. Find out more about the 2019 People's Award Shortlist
The People's Award winners were announced on 20th November, Transport Planning Day 2019, at the Institution of Civil Engineers.
We are delighted to announce that this year's winner was Seaford Active Travel Maps from East Sussex
About Seaford
Working with year six students from feeder primary schools, the transition team noticed lacked confidence or knowledge about their new journey and travelling actively and independently.
Conducting workshops with Living Streets, school governors and students, they developed maps of the easiest and safest routes to school – including safe places to crossroads and safer walking and cycling routes.
A year eight group of students formed the 'Travel Group' and added significant milestones and markers to help younger students interpret the maps. Now in its second year, a new travel group has been formed who gave tips and guidance to year six pupils for travelling to what would become their new school. This helps children to become safe, independent and active on their new school journey.
Seaford's project coordinator from Living Streets, Eleanor Togut said:
"Often students starting secondary school have little experience of managing their own journeys. This contributes to a number of students getting dropped off by parents or carers as they go through secondary school. Older students, like those nominated for the People's Award, can really help to build confidence in younger pupils to travel independently and sustainably.
This group of enthusiastic pupils have worked really hard to produce this resource and I'm sure it's going to help so many of their peers."
The People's Award Judges also gave highly commended recognition to The Deepings Green Walk and Plymotion
About The Deepings Green Walk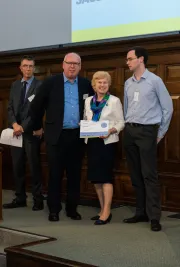 A small town, less than a mile long and two-and-a-half miles wide, its shops, pubs and services are all within easy walking distance. Not content with the extensive walking network in the town, residents developed the green walk standard in their neighbourhood plan
Through the neighbourhood plan the two Parish Councils – Market Deeping Town and Deeping St. James – have adopted the 'Deepings Green Walk standard' for all new developments.
That means new footpaths are required to be 'safe, accessible, attractive, and rationally linked to existing routes.' They also plan to create The Deepings Green Walk – a 15km circuit which aims to join up local facilities, housing and green spaces. Already having planted trees and completed a new
footbridge over the river Welland and introduced traffic calming, the community are putting feet first in growing the town, supporting residents to leave the car at home.
About Plymotion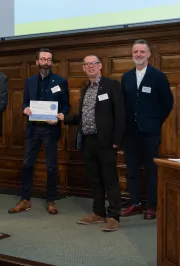 Plymotion offers incentives and travel advice to encourage Plymouth's residents to try greener, cheaper and healthier ways of getting from A to B.
Knocking on 2,943 doors in 2019, Plymotion's travel advisors targeted residents of new builds – likely to be residents new to city and not yet having formed their travel habits. Increasing cycling through the engagement 13 per cent and increasing bus use among the people they reached by 22 per cent.
They've engaged 2,300 employees in 44 workplaces since 2017, offering advice, guidance and incentives for sustainable travel. And working with job centres, they've provided daily bus tickets to job seekers, helping 50 to land jobs using the free bus pass.
Plymotion match-funded the 2018 Sustainable Travel Grants to provide facilities or initiatives to encourage employees to leave their car at home. Successful applicants used the funding to provide improved cycle parking, enhanced shower and changing facilities, electric pool bikes, electric bikes and bespoke travel web packages. Though part of the council, the staff are close to the city's communities, supporting residents to take sustainable transport.
We are so grateful to all who entered our People's Award this year, there were some exceptional projects.
Stephen Bennet, Chair of the Transport Planning Society said:
"Transport Planning Day is a great way for us to recognise that when good transport planning and strong community engagement combine, they deliver lasting benefits to society, including greener, cleaner and healthier places."
"Seaford Active Travel Maps has made a genuine contribution to improving children's wellbeing on their journey to school and were a worthy winner of this year's People's Award."
The People's Award was part of the programme led by the Transport Planning Society with support from Jacobs, AECOM, Mott MacDonald, Arup, WSP, PBA, now part of Stantec and Steer. It culminated in the Transport Planning Day (20 November 2019).
Find out more about the 2019 People's Award Winners
Watch this space for the People's Award 2020!