Transport Planning Day People's Award Shortlist Announcement
On Wednesday 23rd October, we celebrated all the fantastic entries to the TPS People's Awards and their achievements at a special ceremony in the House of Commons, hosted by the Chair of the Transport Select Committee, Lilian Greenwood MP.
The People's Award highlights best practice in sustainable and people-focussed transport planning.
Our expert panel of judges whittled down the shortlist to five finalists after receiving entries from across the UK.
The judging process was led by Stephen Joseph OBE, transport policy consultant and former Chief Executive of Campaign for Better Transport, alongside regeneration expert Mary Parsons and senior transport and planning civil servants, Tricia Hayes CBE and Steve Quartermain CBE.
Launched earlier in 2019, the People's Award invites communities to demonstrate how transport planning projects have made a positive impact in their area. It demonstrates the diversity of transport planning and how it reaches every part of people's lives.
After receiving nominations from around the country, judges looked at schemes that had made a real difference topeople's access to services, quality of life and wellbeing, while involving communities in the planning stages.
The shortlist is comprised of:
Better Streets Enfield: A105 Scheme (Enfield, London)
Croydon Living Streets Group and Friends of Love Lane Green Community Garden (Croydon, London)
Plymouth City Council: Plymotion (Plymouth, Devon)
Ramblers: The Deepings Green Walk (Market Deeping and Deepings St James, Lincolnshire)
Seaford Head School: Active Travel Maps (Seaford, East Sussex)
The overall winner will be announced at the Transport Planning Day, on 20th November at the Institution of Civil Engineers in London. A focus this year will also be on sustainable transport for new housing in partnership with Transport for New Homes.
Stephen Bennett, Chair of the Transport Planning Society, said:
"The People's Award looks for the UK's best community engagement in transport planning, from the community's perspective.
"While major projects hit the headlines, the award is a reminder that often the most important initiatives are ones that take place in the local community, informed or even led by the community. They're projects keep us connected to the things we need every day – our jobs, schools, green spaces and GPs.
"We've been delighted by the breadth of entries to this year's People's Award. It truly shows how important transport planning is to our everyday life.
"I wish the finalist good luck ahead of Transport Planning Day 2019."
Lilian Greenwood MP, Chair of the Transport Select Committee, said:
"The five finalists show transport professionals that when communities take centre stage, they can address local needs and deliver real and lasting benefits.
"I congratulate all the projects who have been shortlisted for this important award, and I was delighted to hear more about them in the House of Commons today."
The People's Award is part of the Transport Planning Day campaign led by the Transport Planning Society with support from Jacobs, AECOM, Mott Macdonald, Arup, Peter Brett Associates / Stantec and Steer.
Better Streets Enfield: A105 Scheme (Enfield, London)
Enfield Council transformed more than three miles of the busy A105 using Transport for London funding to create continuous physically protected cycle lanes and safe junctions from the North Circular, through Palmers Green and Winchmore Hill, to Enfield Town. Beyond cycling the scheme provides a better, safer walking environment – with the cycle lanes providing a buffer from traffic, traffic calming and streets narrowing, making them more pleasant to walk along and easier to cross. Completed in March 2018, counters show an increase of up to 85 per cent in cycling along the route.
The scheme is nominated by Better Streets Enfield, initiated by Enfield Cycling Campaign to support people-friendly, less car-dominated streets in their borough. Now a Facebook group of nearly 1,000 members, they feed into council consultations and support other engagement, giving talks at the council and inviting councillors and officers to events to demonstrate best practice. They felt strongly that their views were taken on board and reflected in the design of the scheme.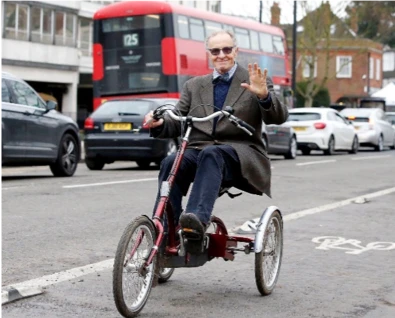 Croydon Living Streets Group and Friends of Love Lane Green Community Garden (Croydon, London)
Formerly an overgrown and unloved strip of land next to a footpath, the area was transformed by members of the community. Love Lane Community Garden is a new urban linear park – a walking and cycling link and a place to stop, play and socialise – created by the Friends of Love Lane Green in South Norwood, Croydon (greater London).
People walking and cycling use the much-improved path, and it has become a destination for local families, turning the journey home from school or the shops into a chance to play out with friends.
Local groups such as the scouts and Living Streets bring the place to life with events. It has been entered into London in Bloom each year and is the backdrop for the London Play 'Play Street of the Year' (2016, 2017).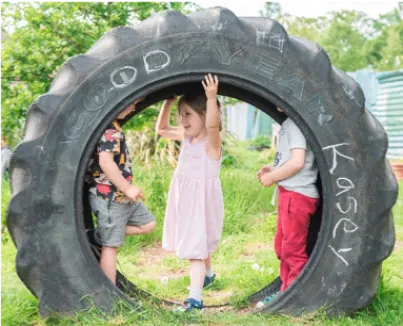 Plymouth City Council: Plymotion (Plymouth, Devon)
Plymotion offers incentives and travel advice to encourage Plymouth's residents to try greener, cheaper and healthier ways of getting from A to B.
Knocking on 2,943 doors in 2019, Plymotion's travel advisors targeted residents of new builds – likely to be residents new to city and not yet having formed their travel habits. Increasing cycling through the engagement 13 per cent and increasing bus use among the people they reached by 22 per cent.
They've engaged 2,300 employees in 44 workplaces since 2017, offering advice, guidance and incentives for sustainable travel. And working with job centres, they've provided daily bus tickets to job seekers, helping 50 to land jobs using the free bus pass.
Plymotion match-funded the 2018 Sustainable Travel Grants to provide facilities or initiatives to encourage employees to leave their car at home. Successful applicants used the funding to provide improved cycle parking, enhanced shower and changing facilities, electric pool bikes, electric bikes and bespoke travel web packages.
Though part of the council, the staff are close to the city's communities, supporting residents to take sustainable transport.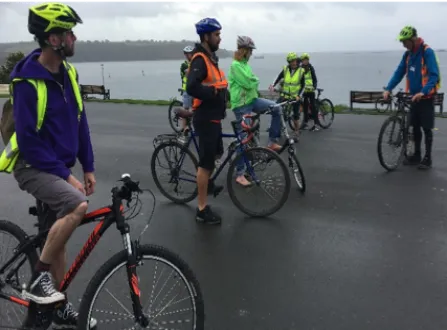 Ramblers: The Deepings Green Walk (Market Deeping and Deepings St James, Lincolnshire)
A small town, less than a mile long and two-and-a-half miles wide, its shops, pubs and services are all within easy walking distance. Not content with the extensive walking network in the town, residents developed the green walk standard in their neighbourhood plan.
Through the neighbourhood plan the two Parish Councils – Market Deeping Town and Deeping St. James – have adopted the 'Deepings Green Walk standard' for all new developments. That means new footpaths are required to be 'safe, accessible, attractive, and rationally linked to existing routes.' They also plan to create The Deepings Green Walk – a 15km circuit which aims to join up local facilities, housing and green spaces. Already having planted trees and completed a new footbridge over the river Welland and introduced traffic calming, the community are putting feet first in growing the town, supporting residents to leave the car at home.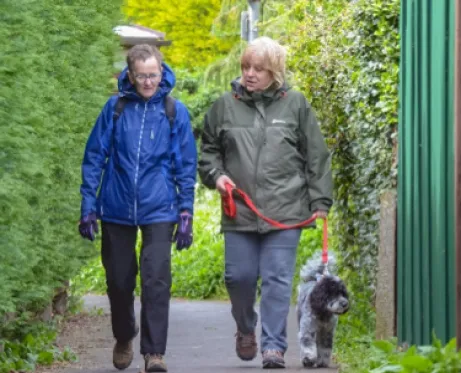 Seaford Head School: Active Travel Maps (Seaford, East Sussex)
Working with Year 6 students from feeder primary schools, the transition team noticed lacked confidence or knowledge about their new journey and travelling actively and independently.
Conducting workshops with Living Streets, school governors and students, they developed maps of the easiest and safest routes to school – including safe places to cross roads and safer walking and cycling routes.
A year eight group of students formed the 'Travel Group' and added significant milestones and markers to help younger students interpret the maps. Now in its second year a new travel group has been formed who gave tips and guidance to year six pupils for travelling to what would become their new school. Helping them to become safe, independent and active on their new school journey.