Register now for online COP26 events led by transport researchers
Two fascinating events are taking place at COP26 next week, organised by transport researchers at the University of Leeds. They are free to attend and will be livestreamed for those who cannot attend in person.
Real Zero in a Hurry: key messages and reflections on transport decarbonisation
14:00–15:15, Monday 8 November 2021, Glasgow & Online
The DecarboN8 Research Network has spent the last two years bringing experts from all sectors together to find out: how can we shift from three decades of drift on climate policy in the transport sector to rapid, deep and early reductions in emissions in line with the carbon budgets implied by the Paris Agreement? Joan Aitken will ask Professor Greg Marsden (University of Leeds) and Professor Kevin Anderson (University of Manchester) to distil the key messages and lessons learned from DecarboN8. Then Alison Irvine (Transport Scotland) and Ben Still (Managing Director, West Yorkshire Combined Authority) will provide their perspectives on the challenge of making transport decarbonisation happen.
Find out more and register here.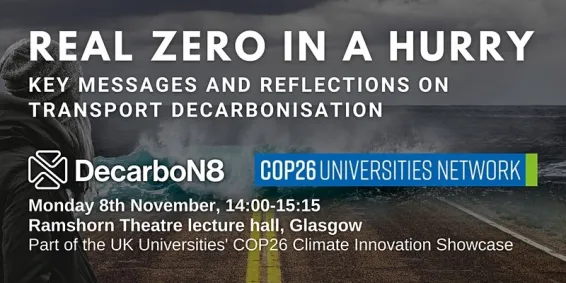 Tools for Community Action - new online tools for places to co-create local action on climate
11:00–12:15 Wednesday 10 November, Glasgow & Online
UK universities have produced a new generation of user-friendly online tools presenting easily-understandable, neighbourhood-level data about where our carbon footprints come from, and what can be done to reduce them. What are the opportunities to use them to engage communities in the challenge of decarbonising their places?
At this event Malcolm Morgan (University of Leeds) will introduce carbon.place, the Place-based Carbon Calculator (England), and Ruth Wolstenholme the new 'Climate Lens' version of placestandard.scot, Place Standard tool (Scotland). Then Daisy Narayanan (Edinburgh Council) will talk to Place-based Climate Action Network community organisers from Yorkshire and Scotland about the possibilities they offer.
Find out more and register here.