Kate Lodge of Arup, who completed PDS in April, has been awarded the title CIHT Young Professional of the Year 2020.
Kate, who is based at Arup's office in Bristol, was both the second PDS completion from Arup, and the second to have her final review conducted by videoconference. Congratulations to her for this further recognition of her skills and willingness to support not only her fellow professionals, but undertake wider outreach work. She has become a Social Mobility Foundation mentor – supporting A-level students from disadvantaged backgrounds to progress their academic qualifications and future career.
Kate said that:
"It has been a really exciting year for me and I am massively proud to be Young Professional of the Year. It is important to me to feel that I am constantly moving forward, and I enjoy learning and developing my skills.
Earlier in the year I was very pleased to complete the Transport Planning Society's Professional Development Scheme and become an incorporated transport planner! Although challenging at times, the PDS has provided me with a wide range of experience, and helped me to make sure I am a well-rounded transport planner. I have benefitted from having excellent, supportive mentors throughout the process who have enabled me to complete this qualification.
On projects I think there is a lot of value in people collaborating and questioning the way things are done. Young professionals can bring perspectives to challenge "business as usual" ways of working"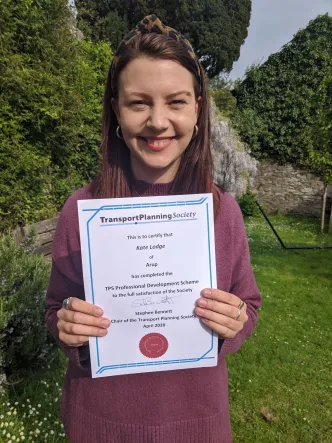 Kate pictured above receiving her PDS Certificate
Keith Buchan, TPS Skills Director said:
"Many congratulations to Kate on this most recent achievement and with her pro-active approach to everything she does I'm sure she has a great future in the profession. It was excellent news earlier this year to welcome her to the growing community of transport planners who have completed PDS and can now use the title Incorporated Transport Planner: IncTP.
These are difficult times but there are opportunities to find new ways of developing skills, particularly with the huge growth in web based events. The TPS skills team has found both PDS final and interim reviews, and web-based training, a very positive experience. We encourage young professionals to use any additional spare time they may have at present to move their development forward and work on their PDS applications – we are very much open for business!"