Kate Lodge, who is based at Arup's office in Bristol, is both the second PDS completion from Arup, and the second to have her final review conducted by videoconference. She was mentored by Nik Bowyer, and Arup's PDS Manager, Steve McCloy, also sat in on the review. He had attended the first remote review and provided useful feedback from a user perspective. With more remote reviews scheduled, and mentor training now adapted to remote working, the TPS Skills team is fully functional despite the COVID lockdown.
Kate ( pictured below) said that:
"I am very pleased to have completed the Transport Planning Society's Professional Development Scheme and become an incorporated transport planner! Although challenging at times, the PDS has provided me with a wide range of experience, and helped me to make sure I am a well-rounded transport planner. I have benefitted from having excellent, supportive mentors throughout the process who have enabled me to complete this qualification, despite the additional challenge of a change in role part way through. This qualification will certainly have prepared me well for the future, and I look forward to working towards becoming a Chartered Transport Planning Professional in the not too distant future"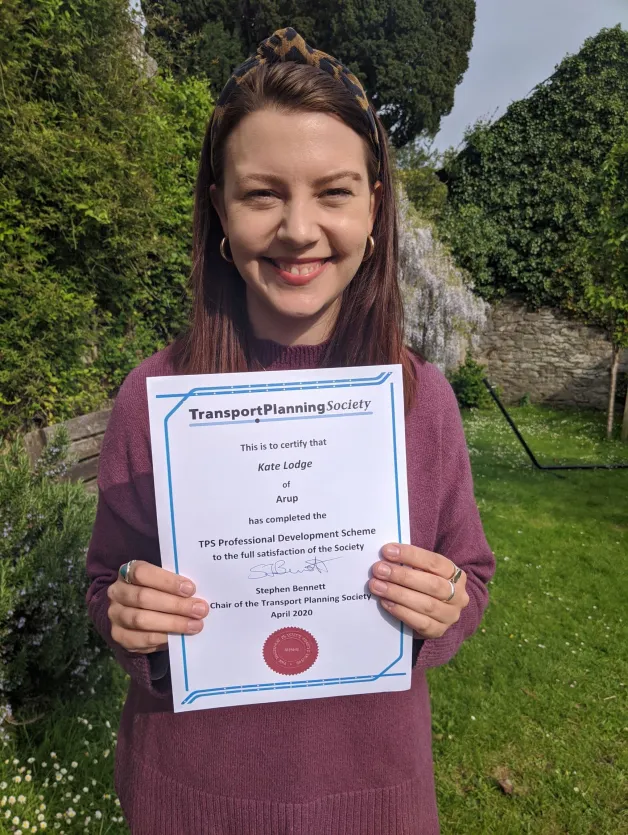 Keith Buchan, TPS Skills Director said:
"Best wishes to Kate for her achievement, she produced an excellent final review and I'm sure she has a great future in the profession. It's great news to welcome her to the growing community of transport planners who have completed PDS and can now also use the title Incorporated Transport Planner: IncTP. As she says, PDS will provide her with a sound basis for moving forward to TPP.
We have had to think through how we could adapt our processes to conduct remote final reviews, and fortunately we had been piloting some aspects of this before the COVID lockdown. We are continuing to refine our working methods, both for final and interim reviews, and web-based mentor training. The very positive experience to date makes us confident that the PDS is very much open for business. In that sense we encourage participants in the scheme to use any additional spare time they may have at present to move their applications forward – we are ready to receive them!"