TPS sponsors an award for the Best Paper by a Young Practitioner at the annual Transport Practitioners' Meeting. This year's winner was by Alex Thomas from Devon County Council for his paper entitled "Lessons learnt from the first fully electric bike share scheme in the UK: a case study of Exeter's co-bikes"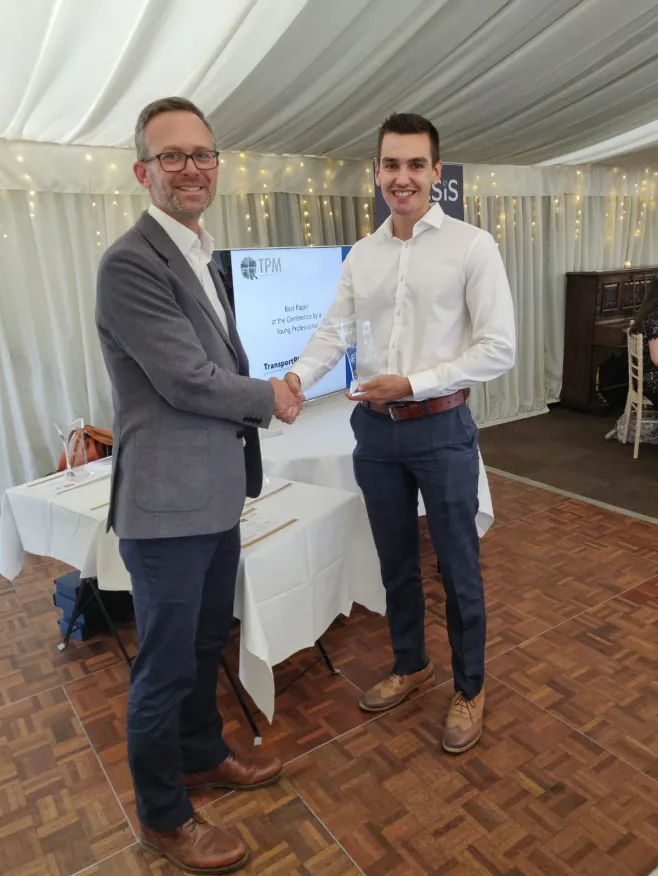 Stephen Bennett, TPS Chair, pictured above making the award said
"TPS considered that Alex has identified and clearly explained an important and topical set of issues which will help inform others rolling out electric bike schemes in the UK.
Little is known about e-bikes application into shared travel and how effective schemes can be as a measure for local authorities to adopt. Cities need to continue to take a more proactive role in introducing innovation. Our streets are public space, and with the rise of micro-mobility options which will seek to share these spaces, local authorities require more guidance on how they can best optimise the allocation of space.
He not only put forward a range of sensible ideas, but demonstrated their robustness by critiquing them against possible objections. The paper was extremely well written and he is considered to be a highly capable and competent young transport planner who deserves to be encouraged by TPS."
Read his paper here