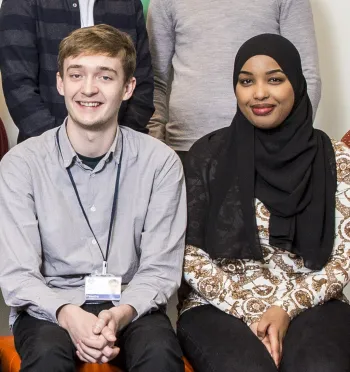 Sadia and Brandon are amongst the first to complete the two-year transport planning apprenticeship with Transport for London (TfL) and now hold the EngTech qualification. Laura Putt from the Transport Planning Society asked them a few questions about their experiences so far.
Sadia
What was your path into transport planning ?
As soon as I completed my A-levels, I started my career at TfL. After looking at the available schemes, I applied to the Transport Planning Apprenticeship: it stood out as it covered lots of different placements. The reason I wanted to work in transport is so I can contribute to such an important part to daily life.
How did the Apprentice scheme compare to your expectations ?
The Apprentice scheme has been more varied than I expected. I got the opportunity to work in multiple teams on many different aspects such as the Policy side, Project Management, Modelling, and GIS (Geographical Information Systems) mapping.
Overall, I've most enjoyed being able to work on a project and then go outside and see that change I made. For example, it could be as small as getting the consent to install a camera at a station and as large as working on HS2 – It's great to see my work in real life.
What does a typical day look like for you in your job ?
Currently as an Assistant Strategic Analyst in the GIS team, a typical day sees me responding to map requests and contributing to different projects. I'm helping out with the Cycle Infrastructure Database Project and updating the current network from ITN (Integrated Transport Network in Ordnance Survey) to Highways.
I am also a member of the Transport Planning Society and CIHT (Charted Institution of Highway and Transport) and ICE (Institution of Civil Engineers) so that gives me opportunities to get involved with seminars and events. I took part in a young professionals' panel for CIHT and gave my thoughts on the transport industry and how it is for us apprentices starting a career in transport.
What are some of the biggest transport planning challenges that you are currently working on ?
A current challenge is getting my head around the programme language 'R' which is used for data analysis. I've attending training courses and I've started to feel more confident as I try to implement it in producing maps.
What are your plans for the future ?
The Transport Planning Apprentice scheme been a good starting point for my career as I've been able to work with many people in different departments, which allowed me to see what I enjoy. I also figured out my strengths, for example, I enjoy working with numbers and not so much a job that entails mainly report writing. In future I want to be more involved in project design (so perhaps a career in the engineering sector) and a longer term goal would be to work abroad.
As part of completing the Apprenticeship scheme, I am now registered with the Engineering council and officially an EngTech. Next steps for me would be working towards getting an IEng and, one day, to be chartered.
Brandon
What was your path into transport planning ?
My original plan was to study urban planning at university. I didn't get the A-Level grades I needed and ended up studying a subject I was not passionate about and dropped out after one year. When browsing the careers section on TfL website I found a new apprenticeship in exactly the industry I wanted to end up in. I had never considered an apprenticeship before this point...
How did the Apprentice scheme compare to your expectations ?
Being an apprentice at TfL completely exceeded my expectations. Truthfully, I applied not because I especially wanted to be an apprentice but because it was the only immediate route into planning available to me at that time.
I was paid the London Living Wage which allowed me to live independently. The taught part of the apprenticeship course was in Leeds and I have made some of my closest friends through the apprenticeship. I have been awarded an EngTech qualification in Transport Planning which demonstrates competency in my field at the professional level, holds academic value and is internationally recognised. I am now in a permanent full-time job and in terms of career prospects and progression, I am better placed than many of my friends that have recently graduated.
I have spent time volunteering at recruitment events and speaking to young people about the benefits and opportunities apprenticeships can create. If you're considering applying for the Apprenticeship then do it! What have you got to lose?
What does a typical day look like for you in your job?
It is very difficult to describe a 'typical' day because every day is different. During my apprenticeship I moved teams every six months and was involved in a range of projects. I conducted transport modelling to understand potential cycle movements as a result of a new Cycle Superhighway, I produced a report to understand and mitigate environmental impacts of a possible tram system and conducted critical data analysis to inform the development of the Mayor's Transport Strategy. I also developed skills in GIS and do a fair bit of mapping work.
What are some of the biggest transport planning challenges that you are currently working on?
In my current role as an Assistant City (Transport) Planner a lot of my time is spent preparing business cases and associated planning documents for transport projects. Most of my work relates to the planning of the Bakerloo Line Extension from Elephant and Castle to Lewisham. Noting that this project is still in the relatively early planning stages, a significant challenge that I and my wider team face relates to where stations will be installed on the proposed route. Major considerations include: where would station construction be feasible from an access and engineering perspective? What is the optimum alignment that will enable the greatest unlocking of new homes and jobs?
What are your plans for the future ?
In terms of my future, I don't have a set plan! It's my (very) long term plan to move abroad and I'm currently taking German lessons in the evening. There is also the prospect of a degree apprenticeship which sounds a good opportunity. Combined with the EngTech qualification I hope this will set me up for a meaningful and prosperous career in transport, no matter where I end up.
Transport Planning Day celebrates the impact planners have on everyday life in the UK. Find out more about Transport Planning Day 2019.
Read more about routes into a career in Transport Planning
Transport for London (TfL) prides itself on its range of apprenticeships and is determined to encourage greater diversity of individuals joining these schemes – securing the future diversity of our organisation.